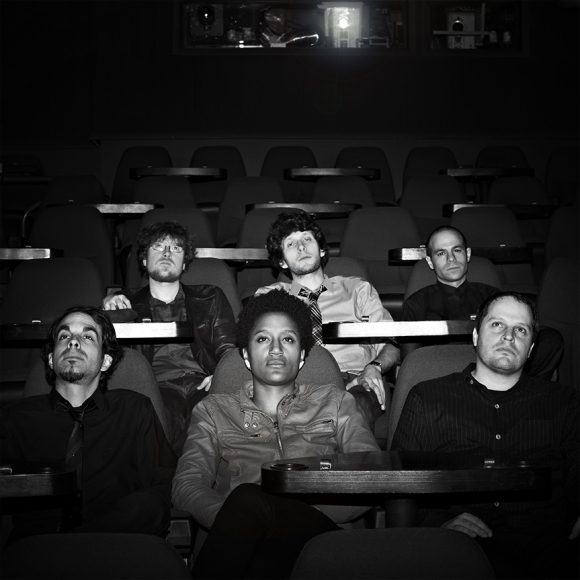 WHO IS MORRICONE YOUTH?
Morricone Youth formed in New York City in 1999 with the mission statement of composing, re-interpreting, performing and recording only "music written for the moving image." With a repertoire of over 100 reinterpretations of film and television soundtracks and music production library recordings (many of which recorded for CDs released by Country Club Records),the band performs with projections thematically dedicated to specific composers or film music genres in addition to composing and performing its own original live scores to old silent films, midnight movies, animations and shorts in theaters and art spaces around the country. In 2005, Morricone Youth composed original music for its own imaginary film entitled "SILENZIO VIOLENTO", recorded with legendary Brooklyn producer and engineer Martin Bisi released by Country Club Records. The band's original music has regularly been used for television and films, including the documentary "Second Skin" directed by Juan Carlos Pineiro-Escoriaza about MMORPGs.
The band has embarked on the ambitious project of recording and releasing a 15-vinyl/digital series of the enormous body of work it has composed and re-worked for the 15 silent films and midnight movies and performed over the past six years around NYC. The first three releases of the series are now available digitally and on vinyl: (1) "THE ADVENTURES OF PRINCE ACHMED" 6-song 32-minute EP (150g black vinyl, limited pressing of 500 w/ digital download cards); (2) "NIGHT OF THE LIVING DEAD" 6-song 25-minute EP (second pressing on 150g transparent blood red swirl vinyl limited pressing of 500 w/ digital download cards); and (3) "MAD MAX" 10-song 40 minute LP on coke bottle green OR gold black swirl 150g vinyl, limited pressing of 500 each w/ digital download cards). Up next: F.W. Murnau's "SUNRISE: A SONG OF TWO HUMANS" (est. April 2017); Alfred Hitchcock's "THE LODGER" (est. August 2017); and Sergei Eisentein's "BATTLESHIP POTEMKIN" (est. November 2017). Distribution via Light in the Attic Records and Revolver USA.
WHAT IS A LIVE ORIGINAL RE-SCORE?
The film is shown with the original music removed. The Music Artists then perform their own interpretation, re-written ("Re-Score").
MORRICONE YOUTH PERFORMS "NIGHT OF THE LIVING DEAD" AT OIFF 2018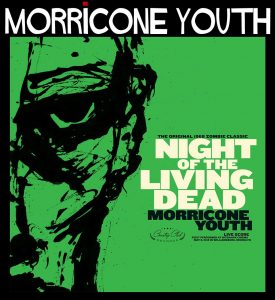 Morricone Youth will perform a live original re-score to George A. Romero's 1968 classic, "The Night Of The Living Dead" Saturday night August 4th. (See Full Schedule Here)
Runtime: 97 Min
A disparate group of individuals takes refuge in an abandoned house when corpses begin to leave the graveyard in search of fresh human bodies to devour. The pragmatic Ben (Duane Jones) does his best to control the situation, but when the reanimated bodies surround the house, the other survivors begin to panic. As any semblance of order within the group begins to dissipate, the zombies start to find ways inside — and one by one, the living humans become the prey of the deceased ones.
MORRICONE YOUTH PERFORMS "MAD MAX" AT OIFF 2018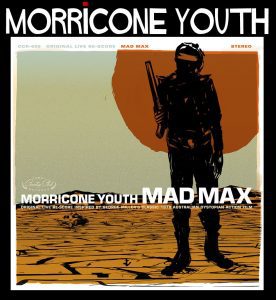 They will also perform a matinee on Sunday, August 5th to a screening of George Miller's1979 dystopian action film, the original Mad Max; again performing and crafting their own live interpretation and re-score of the film.
Runtime: 95 min
In a not-too-distant dystopian future, when man's most precious resource — oil — has been depleted and the world plunged into war, famine and financial chaos, the last vestiges of the law in Australia attempt to restrain a vicious biker gang. Max (Mel Gibson), an officer with the Main Force Patrol, launches a personal vendetta against the gang when his wife (Joanne Samuel) and son are hunted down and murdered, leaving him with nothing but the instincts for survival and retribution.