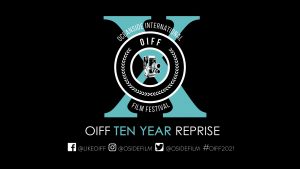 Join us for the OIFF Ten Year Reprise brought to you by Visit Oceanside, The Pour House Oceanside, Frankie's and Sette Bello Excursions. The virtual event begins February 20th, highlighting the past ten years of OIFF. We cannot thank you all enough for the amazing support we all felt during The Oceanside International Film Festival virtual Ten Year Celebration this past August. In spite of the pandemic we were able to hold and amazing virtual event that was enjoyed by many. We had incredible support from the community and our sponsors Visit Oceanside, Sette Bello Excursions, Privateer Coal Fired Pizza, and the Oceanside Cultural Arts Foundation.
OIFF Ten Year Reprise Introduction
Every Year our small group of volunteers works tirelessly to bring forth to the community, and visitors to the community a wide range of events, films, television, special guests and opportunities for artist in media and entertainment from around the world to have their work celebrated and recognized. We had such amazing feedback on our "X" Year Virtual Celebration we just had to add another event to allow us to really give tribute to some of the amazing moments including films, filmmakers, stars, winners, music and events of the last Ten Years. This event also gives us the opportunity to let everyone know we are moving our annual festival to February from its usual dates in the month of August.
This current event happening February 20th; the OIFF Ten Year Reprise will be in a virtual format and delivered through Eventive, a secure online virtual film festival platform. Ticketing can be accessed through our web site with a program that will involve over 15 film blocks, including a number of features, shorts, exclusive content, interviews and look backs at the past years of the Oceanside International Film Festival.
We look forward to your support of this special event and hope to see you in person at the 11th edition in 2022.