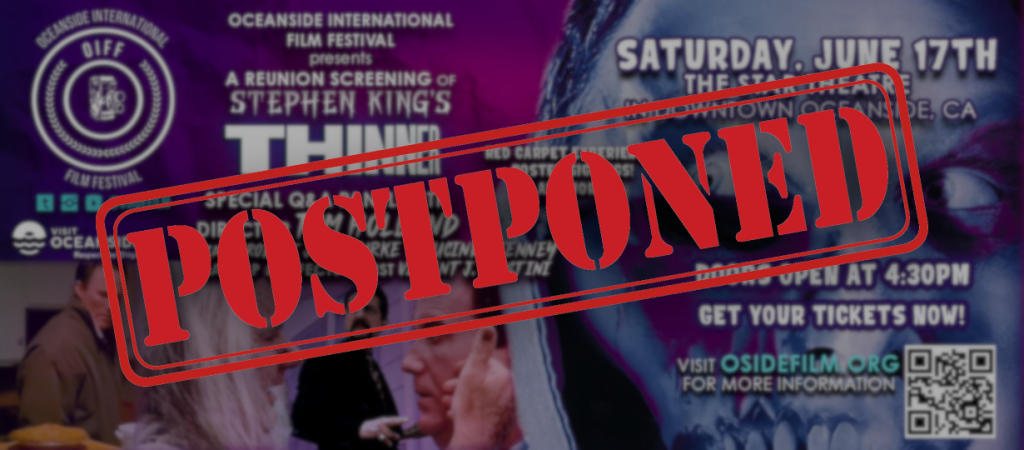 Due to an unforeseen scheduling conflict, it is with great regret that we must announce the postponement of our THINNER Reunion Screening and Event. A new date is to be determined. The Oceanside Intl Film Festival thanks our passionate community and sponsors for their support of our ever-growing events and festival. All ticket purchases will be refunded within the next couple of days. We thank everyone for their understanding.
---
The Oceanside International Film Festival announces a special reunion screening of STEPHEN KING'S THINNER that will take place at The Star Theatre in Downtown Oceanside, CA on Saturday, June 17th with doors opening at 4:30pm and the screening commencing at 5:30pm. The presentation will be followed by a retrospective panel discussion with attending cast & crew of the film. Set to appear in-person are Director Tom Holland(Child's Play, Fright Night), Stars Robert John Burke & Lucinda Jenney, as well as makeup & effects artist Vincent J. Guastini with more mysterious guests are to be announced.
In STEPHEN KING'S THINNER, an obese lawyer (Billy Halek, played by Robert John Burke) finds himself growing "Thinner" when a mysterious carney (Michael Constantine) places a hex on him. Now the lawyer must call upon his friends in organized crime (Joe Mantegna) to help persuade the old man to lift the curse. Time is running out for the desperate lawyer as he draws closer to his own death & grows ever thinner by the day. The Event will be preceded by a lobby reception, complete with a meet & greet for ticketed attendees and a Red Carpet hosted by Julia Marchese and Teri Gamble of the Horror Movie Survival Guide podcast.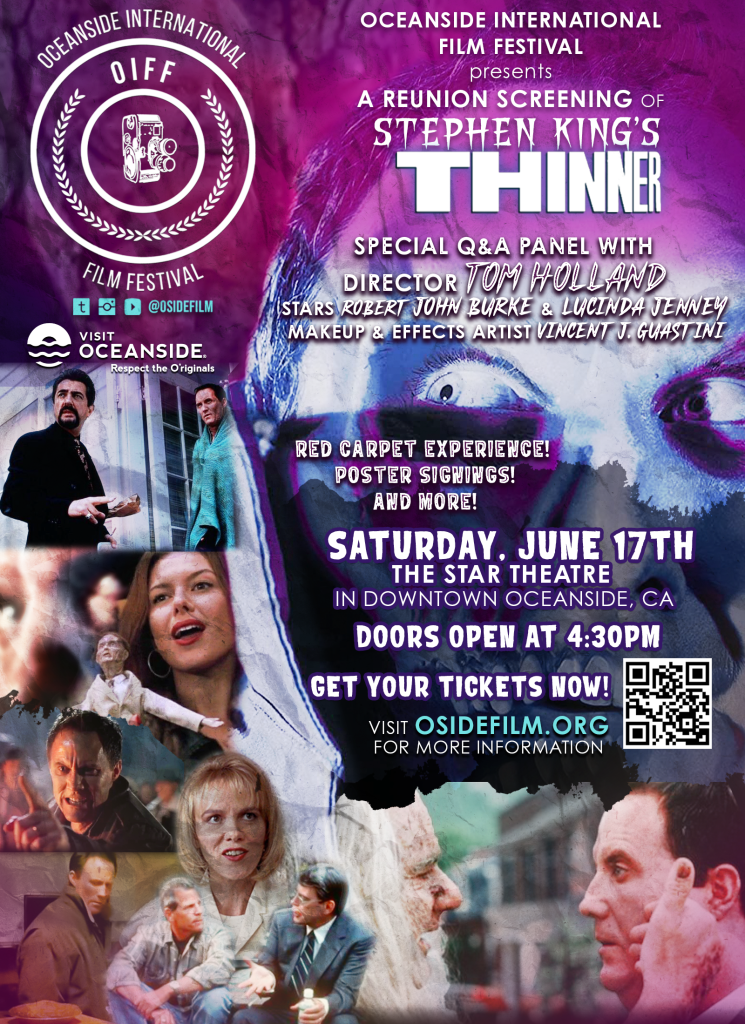 Previous special events & guests the Oceanside International Film Festival have hosted include the 20th Anniversary Cast & Crew Reunion for Blue Crush (2002) & Multiple Cast & Crew Preview Events for TNT's locally produced TV Series Animal Kingdom. Other guests hosted by OIFF include Orange is the New Black star Taryn Manning, Six Feet Under star Joanna Cassidy, Star Wars production designer Alan Roderick-Jones, among many others. Tickets are available now for this special event, presented by Visit Oceanside. Tickets are Available Now via Events.com.