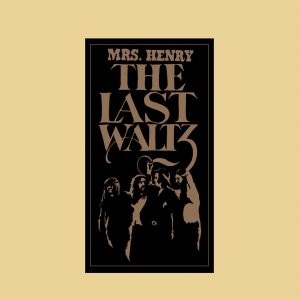 The Oceanside International Film Festival announces the World Premiere of Mrs. Henry Presents – "The Last Waltz" happening Sunday August 4th, 2019 at the Brooks Theater as part of the Oceanside International Film Festival. On November 25, 1976 a legendary rock group called The Band called it quits and documented their final performance at the Winterland Ballroom in San Francisco with the help of filmmaker Martin Scorsese. On November 26, 2017 at the Belly Up Tavern in Solana Beach right here in San Diego, Mrs. Henry documented their own incredible tribute.
The Belly Up was exploring the idea of staging another Last Waltz and invited the group to recreate the iconic concert. More than a tribute, more than a reenactment, Mrs. Henry's Last Waltz was to celebrate the music and the collaborative spirit of the performance. Planning and rehearsing for the event took nearly a year and put tremendous stress on the Mrs.Henry, nearly breaking the group. But for Mrs. Henry, the challenge ignited new purpose, inspiring the band and affecting an entire music community in the process. Mrs. Henry's "Last Waltz" not only honors the legacy of The Band's infamous star studded classic but also portrays a San Diego brotherhood of terrific storytellers and community organizers. Filmed at the internationally acclaimed Belly Up Tavern, this documentary showcases the City's finest, including guest performances from many of San Diego's most respected musicians including Pat Beers of The Schizophonics, Brenden Dellar of Sacri Monti, Jesse Lee of The Paragraphs, Clinton Davis, Noah C. Lekas, Robby Gira, Brian Karscig, Roger Molina, Anna Zinova, Stephen El Rey, Nena Anderson and many, many more. True to the Scorsese form, the documentary traces the group's history, reveals the process of arranging the performance, and marks the impact that the seminal concert had on each member of the band.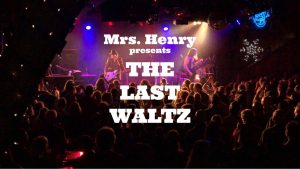 Sunday, August 4th, 2019 – Sunshine Brooks Theater, 217 N Coast Hwy, Oceanside, CA. The event will include a special short performance and Q&A after the film screening. 
Mrs. Henry includes Jody Bagley (keys & vox), Daniel Cervantes (guitar & vox), Blake Dean (bass & vox) and Chad Lee (drums). Musicians participating in the event include – Ben Ambrosini, Jordan Andreen, Nena Anderson, Jesse Audelo, Bryan Barbarin, Pat Beers, Bill Caballero, Clinton Davis, Brenden Dellar, Wili Fleming, Robby Gira, Aaron Graggs, Keith Allen Haman, Andrew Huse, Brian Karscig, Jesse Lee, Noah C. Lekas, Will A. Lerner, Jeff McElroy, Murf McRee, Kyle Merritt, Jason Meyers, Roger Molina, Rory Morrison, Mike Pope, Russell Ramo, Stephen El Rey, Justin Rodriguez, Brittany Wallace, Tina White, and Ana Zinova.