NOTE: Below is the full schedule for OIFF 2020.
For the first time in its history, The Oceanside International Film Festival will be presented in a virtual format and will run August 15th through 22nd, 2020.
The OIFF Committee hopes you will join us online, as our official lineup of films for #OIFF2020 is featured below! Passes are on sale now with all screenings taking place on Eventive.org. All curated films & programs will be available for home viewing for one week between the dates of 12:00pm Saturday, August 15th & 12:00am Sunday, August 22nd.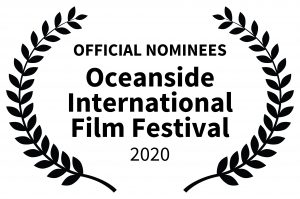 TICKETS TO OIFF 2020 ARE ON SALE NOW VIA EVENTIVE.ORG


OIFF Continues its Annual Tradition of Action Sports Content with our Latest Skate & Surf 'Lineup' of Short & Feature Length Films.
Collectors vol. 1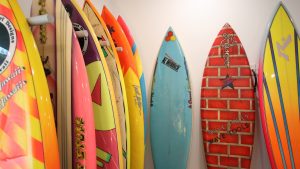 Director: Anthony Gentile
Origin: Manhattan Beach, CA
Runtime: 11 min
In search of one-of-a-kind, rideable art, 3 strangers illustrate a craft surfing community by telling a universal story of friendship and the desire for fun.
UNNUR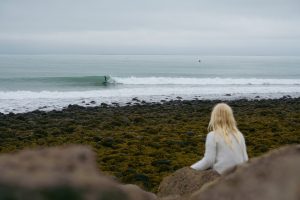 Director: Chris Burkard
Cast: Elli Thor Magnusson, Unnur
Origin: Iceland
Runtime: 17 min
Elli Thor is an Icelandic photographer, surfer, and former kayaker. A decade ago Elli nearly drowned under a waterfall while kayaking a challenging Icelandic river. The near death experience became a catalyst for personal growth and his professional career. After walking away from kayaking, a newfound passion for surfing and the birth of his daughter Unnur gave him a new perspective worth living for.
The World is a Skatepark: Photographer J. Grant Brittain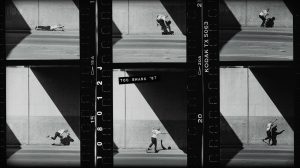 Director: Bill Wizneski
Cast: J. Grant Brittain
Origin: San Marcos, CA
Runtime: 13 min
The World is a Skatepark shares the work and stories of legendary skateboarding photographer J. Grant Brittain. In his 40-years as a photographer, he captured some of the most iconic images in skate history, documenting the rise of future pro skaters like Tony Hawk.
Legacy: Surfing Then & Now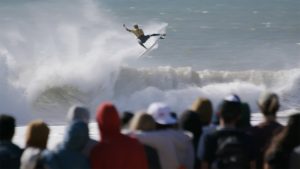 Director: António Matos da Silva
Cast: Sunny Garcia, Jake Paterson, Derek Ho, Michael Ho, Rob Bain, Shane Beschen, Tom Curren, Cheyne Horan, Phil Jarratt, Jamie Brisick, Hans Hedemann, Fábio Gouveia, Ian Buchanan, Jodie Cooper
Origin: Portugal
Runtime: 42 min
As the sport grows, more and more people surf. Do the surfing legends still relate to what pro surfing as become? Will Surfing be as mainstream as other sports? Can you teach the Aloha Spirit to mainlanders and surfers from new demographics? Meet the surfing pioneers while they compete for a World Title in the Azores islands and get to know their views on what is still to come.
Keeping up with OIFF 2020's Cause & Sustainability Initiative is this Program of Socially & Environmentally Conscious Documentaries for a Cleaner & Safer Tomorrow.
Dirty Business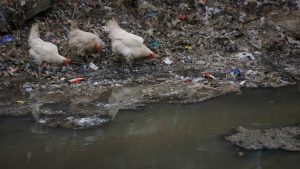 Director: Yutao Chen
Origin: Vietnam
Runtime: 12 min
Most of us don't think much about recycling. We rinse our yogurt containers, crush our milk cartons, and break down our boxes. But once our trash hits the curb in a blue or a brown or a green bin, we forget about it. Welcome to Minh Khai, Vietnam – where plastic from all over the world finds new life. This film documents the experiences of Minh Khai's residents as they wrestle with the blessings and curses of an empire built on our trash.
Acaiaca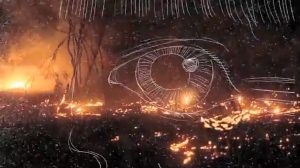 Director: Axel Sande
Origin: Brazil
Runtime: 7 min
Acaiaca is an experimental animation based on a legend about a sacred cedar that was chopped down by the Portuguese, which caused the destruction of the nearby Puri Indian tribe in just one night.
Sockeye Salmon. Red Fish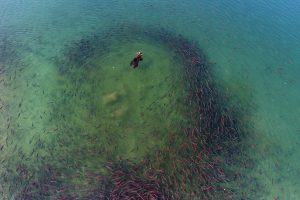 Director: Dmitriy Shpilenok , Vladislav Grishin
Origin: Russian Federation
Runtime: 51 min
Sockeye, a species of wild salmon, is born in Kamchatkan waters and spends its entire life in the Pacific Ocean. Only once does it return to fresh waters – to give offspring, start the circle of life, and die. It is an inexhaustible resource that feeds billions of people on the planet, restored every year! But soon, we may find ourselves facing the unimaginable: humans will exhaust the inexhaustible!
A Voice For Whales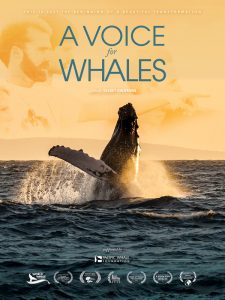 Director: Selket Kaufman
Origin: Australia, Chile, Ecuador, Slovenia, Tonga, United States
Runtime: 23 min
In 2018, Pacific Whale Foundation's founder Greg Kaufman passed away after a hard-fought battle with cancer. 'A Voice for Whales' was created to tell the story of his fight to save humpback whales from extinction by educating the public, from a scientific perspective, about whales and their ocean habitat.
A film created over the course of two years by Greg's wife, PWF team member, and acclaimed photojournalist Selket Kaufman, the 20-minute piece tells a story of hope and of "standing up for what you believe in, no matter the odds," according to the filmmaker, who traveled to Tonga, Slovenia, Australia and the continental U.S. to interview, friends, colleagues and people who knew him best to help tell his story.
There is No Planet B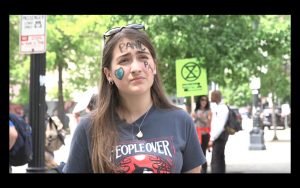 Director: Stephen Stanley
Origin: Seattle, WA
Runtime: 45 min
This film tells the story of the efforts of Seattle students, through activism and action, to create an awareness of the consequences of climate change and the urgent need to implement practical solutions to lessen its negative effects.
Shorts Program: Coming of Age
This Program of Fiction & Nonfiction Shorts Focus on the Inner Strength Born in and Retained from Youth, leading to these stories of Self-Discovery, Personal Anxieties & the Dawn of Parenthood.
Bananas Girl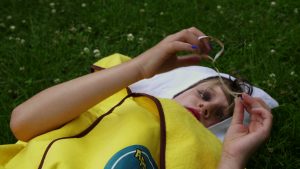 Director: Shayna Connelly
Cast: Ailsa Connelly
Origin: Chicago, IL
Runtime: 7 min
Seven-year-old Bananas Girl asserts her independence, perfects the art of the non-sequitur and navigates the boundaries between herself and her mom. The film exists in the intersection of home movies, performance art and documentary, incorporating a mother's and daughter's obsessions and their parallel views of what it means to be creative.
Hound Dog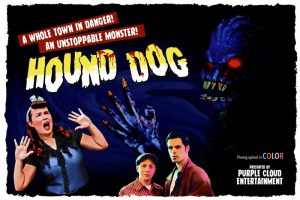 Director: Michael Robert Anderson, Matt Provenzano
Cast: Michael Robert Anderson, Matt Provenzano, Melanie Randall, Michael Maugeri
Origin: New York City, NY
Runtime: 6 min
In the year 1957, a group of battered kids try to convince their small town that a killer monster is on the loose.
I'm On Fire
 Director: Rose Trimboli
Cast: Eloise Gordan, Ben Scofield, Gary Mapp, Reagan Walczak, Bobby Decker, Casey Baum
Origin: Los Angeles, CA
Runtime: 8 min
I'm on Fire is a student short experimental-narrative film about the paradigm shift between how romance is presented in movies versus what happens in real life. This film follows Jodie, a young woman with a skewed view of relationships due to the heavy influence of romance movies in her life. The film examines Jodie's journey through the five archetypes of men.
The Power Agent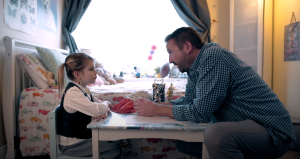 Director: Mark Atkinson
Cast: Mark Atkinson, Charlie Krapf, Jeff Krapf
Origin: San Diego, CA
Runtime: 5 min
A struggling actor seeks advice from his wise and powerful agent in this comedy short that explores, exploits and parodies the talent and talent representation relationship.
Aida (In Between)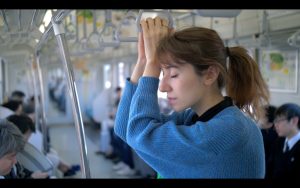 Director: Christopher W. Graham
Cast: Kiko Wilson, Mayumi Fukuhara, HyunJin Jeong
Origin: Sacramento, CA // Japan
Runtime: 9 min
A young mother is stuck between development and decay. Desperate to connect, she strikes a chord that links to the deepest parts of our memory.
Just Go Fucking Surfing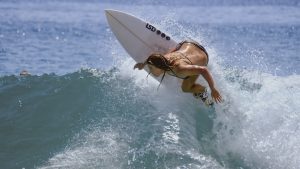 Director: Juul Hesselberth
Cast: Jess Grimwood, Grace Styman,
Audrey Styman, Kirsty Best
Origin: Netherlands
Runtime: 27 min
Although more women are surfing, their stories still remain rarely told. What does the marketed 'sexy surfer girl' image do with women who never felt like they suited this image? How has this influenced their career and self-esteem? For her ethnographic documentary 'Just Go Fucking Surfing' Juul Hesselberth spent three months in Australia, where she followed four female pro surfers whom pursue(d) a surfing career. This film moves through the online representations to the lived reality of female athletes.
A Short Genre & Heavy Drama Program that both Conjures & Exorcises the Fears & Tragic Realities Experienced in & around our Lifetimes, whether they be of the Supernatural or all-too-Natural Variation.
Inoculation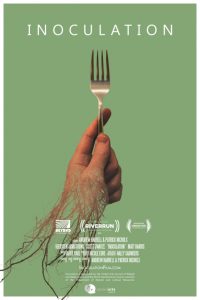 Director: Andrew Harrell, Patrick Nichols
Cast: Kiersten Armstrong, Scott Swayze
Origin: Raleigh, NC
Runtime: 13 min
A woman faces an ultimatum from her husband, rooted in his desperate drive to protect them from impending environmental catastrophe.
Nobody's Home
Director: Lior Troianovski
Cast: Jack Gross, Katelyn Rydzewski, Andrew Colford
Origin: Los Angeles, CA
Runtime: 4 min
Nobody's Home explores the avenues in which children deal with trauma. Part 1960's family drama, part fantasy, a young boy tries to navigate his troubled home life.
The Cancer Monster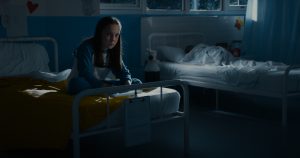 Director: Michael Costello
Cast: Eva Morris, Jack McAvoy, Janine Walker, Marty Maguire
Origin: Ireland
Runtime: 15 min
A girl in a cancer ward is forced to confront her deepest fears – real or imaginary. At stake is life itself.
Midnight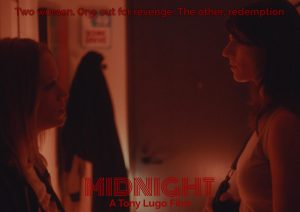 Director: Tony Lugo
Cast: Jaime Saginor, Whitney Bensfield, David Air, Trevor Downie, Ilea Alfaro, Izzy Martinez
Origin: Los Angeles, CA
Runtime: 14 min
Reeling in grief over her brother's death, Dara enlists the help of her brother's problematic ex-girlfriend on a quest for revenge. As they descend into the seedy underbelly of the drug world, Dara quickly realizes she's in over her head.
Leave 'Em Laughing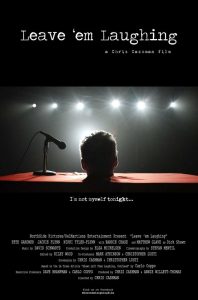 Director: Chris Cashman
Cast: Matthew Glave, Pete Gardner, Barrie Chase, Nikki Tyler-Flynn, Jackie Flynn, Mark Christopher Lawerence, Joe Nunez
Origin: San Diego, CA
Runtime: 15 min
An evening of stand up comedy takes a not so funny turn, leaving the audience wondering what they just witnessed.
ALINA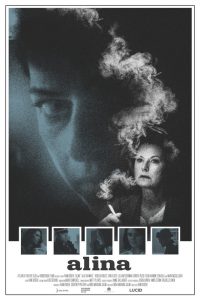 Director: Rami Kodeih
Cast: Alia Shawkat, Edin Gali, Rebeca Robles, William McCullough, Erika Soto, Jillian Federman, Dorota Puzio, Sean Harmon, Weetus Cren
Origin: Brentwood, CA
Runtime: 25 min
As Nazis separate children from their parents in the Warsaw Ghetto, a gang of women risks everything to smuggle their friend's three-month-old baby to safety. Inspired by true events. Starring Alia Shawkat (ARRESTED DEVELOPMENT, SEARCH PARTY), Edin Gali (MAD MEN), Rebeca Robles (BETTER THINGS), Erika Soto (VIDA), and Mark McCullough (LOGAN LUCKY).
A Mixture of Drama & Humor Celebrating an Elder Generation of Great Achievement, Selfless Heroism & Reflective Emotion.
Waterproof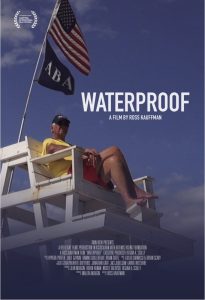 Director: Ross Kauffman
Origin: Southampton, NY
Runtime: 31 min
Immersive and cinematic, WATERPROOF is the story of one community's crusade to create a safe swimming environment in East Hampton, New York. Led by the incomparable Big John and Johnny Jr., these lifeguards give the best of themselves to train, compete and ultimately ensure the safety of locals and tourists alike at the eastern end of Long Island.
Gail
 Director: Katie Lemon
Cast: Nancy Cronig, Lisa Renee, Jodi Harrison
Origin: West Hollywood, CA
Runtime: 10 min
A recently widowed woman who used to take partner dancing classes with her husband must decide whether to remain stifled by her grief or find the courage to dance on her own.
The Roommates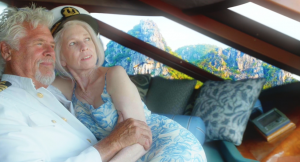 Director: Cameron Penn
Cast: Barry Bostwick, Bruce Davison, Martin Kove
Origin: Carlsbad, CA
Runtime: 15 min
Two senior citizens living in a retirement home plot to kill their obnoxious roommate, in a scheme to land a free cruise to the Bahamas.
Dignity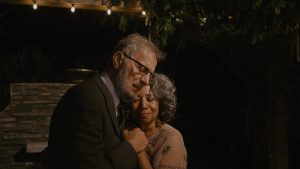 Director: Pat Battistini
Cast: Lorey Hayes, Tom Katsis, Mildred Langford, Clay Cureton
Origin: Santa Clarita, CA
Runtime: 25 min
"Dignity" is a love story between a woman and her family. However, the family's strength is tested when a moral decision must be made.
The One & Only Jewish Miss America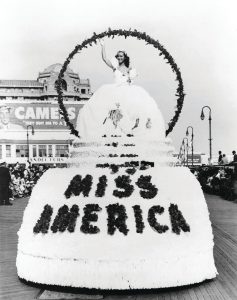 Director: David Arond
Cast: Barra Grant
Origin: Tucson, AZ
Runtime: 51 min
"The One and Only Jewish Miss America" is the surprising story of Bess Myerson, the talented beauty queen from the Bronx, and how she won the world's most famous beauty pageant 75 years ago, at the tail end of World War II. The film follows Bess, the middle daughter of poor Russian immigrants, from her childhood in a one-bedroom Jewish housing project apartment through the suspense-filled pageant. Impressed by the college-educated musician, the judges chose her in spite of anonymous threatening phone calls and sponsor disapproval of a Jewish pageant winner. On her 1945 Miss America tour, Bess faced antisemitism and closed doors at race-restricted venues which did not allow Jews. It is also a story of courage as her disappointment turned to determination, leading Bess Myerson to start her own tour to teach tolerance at high schools and colleges around the country — a tour which launched her lifelong passion for justice.
A Narrative & Nonfiction Shorts Lineup Examining the Social & Racial Injustices of our Nation, as well as the Great Strides Being Taken by those Working Toward Self-Advancement (Sensitive Content Warning). 
Do You Hear Me, America?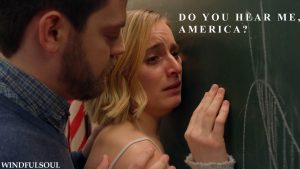 Director: Aiden Ko
Cast: Jordan Rheanne Murphy, Dennis Renard, Kenny Hesse, Joe Walsh
Origin: United States
Runtime: 5 min
Two Americans are harassed and racially discriminated, but they fight back to have their voice heard.
Underdogs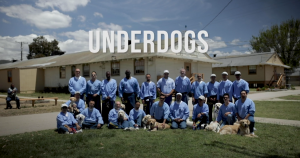 Director: Alex Astrella
Origin: San Luis Obispo, CA
Runtime: 17 min
At the California Men's Colony in Central California, a special connection forms between dogs and their inmate handlers, as the prisoners lovingly prepare the canines to become fully operational service animals.
Rhythms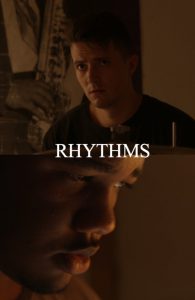 Director: Sam Vargen
Cast: Johnathan Middleton, Carter Sirianni
Origin: Los Angeles, CA
Runtime: 8 min
In the wake of a tragedy, a young black musician navigates a rehearsal session with his white best friend.
First Chances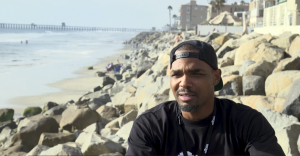 Director: Alex Luchsinger
Cast: Timothy Jackson
Origin: Oceanside, CA
Runtime: 25 min
This is the story of Timothy Jackson, a man from Oceanside, CA who never had a first chance in life and ended up serving a longterm prison sentence after coming of age as a gang member. Jackson participated in an entrepreneurship program in prison, sparking change in his life and ultimately leading him on a path of success, love, and new meaning.
American Hate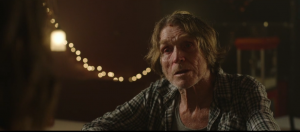 Director: Daniel Brea
Cast: Alexander Dean Williams, Shawn Parikh, Shradda Divri, Joseph Lloyd Lopez, Roshan Matthews
Origin: Sherman Oaks, CA
Runtime: 26 min
Based on a true story of an Indian immigrant couple whose lives are shattered by an unexpected hate crime in Olathe, Kansas fueled by anti-immigrant and racist rhetoric after the 2016 election.
Short & Long Form Cinema of both the Kinetic & Pleasantly Absurd Interweave with that of the Methodical & Undefined. Welcome to the Art House.
Eat The Rainbow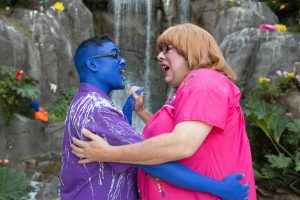 Director: Brian Benson
Cast: Cousin Wonderlette, H.P. Mendoza, Lady Bear, April Kidwell, Dolores Huerta, Jason Brock, Robert Caruso
Origin: San Francisco, CA
Runtime: 19 min
EAT THE RAINBOW is a musical fable about an odd yet kind man named Bayani who moves into a conservative suburban neighborhood and disrupts the otherwise comfortable homogeny. He doesn't look or act like anyone else which causes fear and panic and eventually a demand for him to leave the neighborhood. Cousin Wonderlette befriends Bayani and together they take on the opposition led by manipulative and unscrupulous realtor Lobelia Gerber.
The End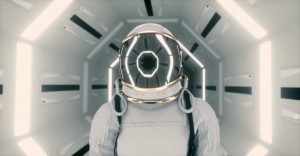 Director: Tommy Kenney
Cast: Maxine Christians, Tommy Kenney, Craig Hubbard, Jim Donelly
Origin: Venice, CA
Runtime: 11 min
When their relationship turns sour, A space farmer and his ship's artificial intelligence must fight a bigger challenge then their impending break up.
Four Junkies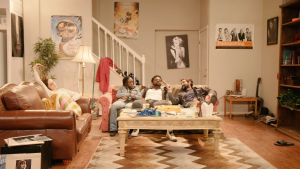 Director: Hayden Croft
Kevin Louis White, Alex Ansoleaga, Lindsay Elston, Paquita Hughes
Origin: North Hollywood, CA
Runtime: 9 min
A controversial black comedy, "Four Junkies" takes place in the midst of an opioid crisis in America. It is a satirical look at the lengths to which the junkies will go and the juxtaposition between the lives of the characters and the sitcom audience who is watching and being entertained by their depravity.
Fire Underground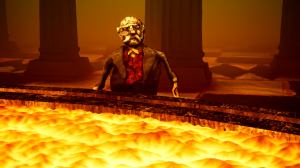 Director: Nick Crockett
Origin: Grass Valley, CA
Runtime: 15 min
Fire Underground is an animated fantasy inspired by the industrial history of Appalachia, which pitches myths of forgotten forests, crawling proto-reptiles, and chthonic infernos against labor history, natural history, and folk culture.
Love is Not Love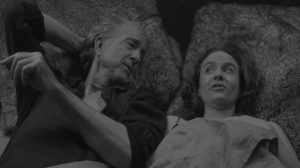 Director: Stephen Keep Mills
Cast: Alejandra Gollas, Tonya Cornelisse,  Russell Simpson, Cameron Tagge, Tamela D'Amico, Cathy Shim, Stephen Keep Mills, Louise Martin
Origin: Los Angeles, CA
Runtime: 94 min
Early December, New York City, and everyone is on the hunt for love. Why? Because they haven't found it and because they haven't found it, they make it into a myth and chase the myth instead. That is not love in this romantic drama of fantasy, fate, and yearning.
A Block of Diverse & International Voices as Heard Through their Art, Stories & Unique Experience.
Orale Thrucha- The Art of Jamie Chavez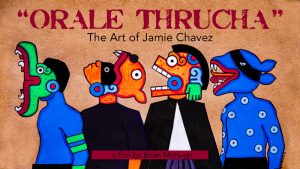 Director: Brian McHugh
Cast: Jamie Chavez
Origin: San Diego, CA
Runtime: 11 min
Growing up in Los Angeles, CA's Echo Park in the 1970s and 1980s was not easy. For many young people, gang life was the only path. Artist Jamie Chavez dreamed of a different life. He embraced both his Native American and Chicano roots and combined both cultures in his work. The fusion of both cultures is a refreshing take on life in a rich, diverse city.
Baba's Next Chapter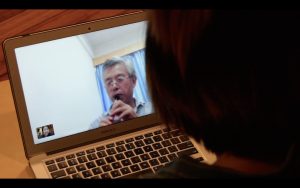 Director: Jamie C.X. Wang
Origin: Los Angeles, CA
Runtime: 10 min
As her father's retirement approaches, a student filmmaker living abroad attempts to bring a story the father wrote to life, to prevent him from abandoning his one last creative passion that's fading away.
The Roads Most Traveled: Photojournalist Don Bartletti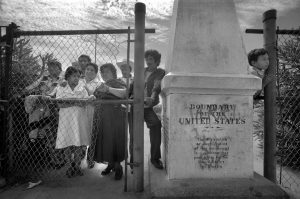 Director: Bill Wizneski
Cast: Don Bartletti
Origin: San Marcos, CA
Runtime: 24 min
Pulitzer prize-winning photojournalist Don Bartletti shares heart wrenching stories from his forty year career documenting history as it unfolds. Internationally recognized for his commitment to photographing the migration of Central Americans to the United States, Bartletti's images reveal the never ending saga of illegal immigration by individuals desperate to improve their lives.
By The Sea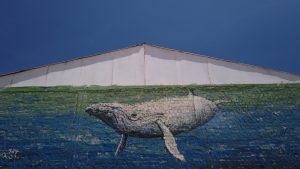 Director: Manfred Neuwirth
Origin: Austria // Peru
Runtime: 13 min
Pictorial and acoustic notes from an extraordinary place on the coast of Northern Peru. Lobitos – an outpost with its particular share of history. It was controlled by British oil producers for most of the twentieth century, before being taken over by the Peruvian state in the late 1960s to set up a military base. After waves of dilapidation and revitalization it is today a surf spot, a fishing hamlet, a Potemkin village of sorts. All quite absurd, yet with a wealth of ambiances and pictorial sceneries. Incidentally, it was here that the first cinema in South America was opened, of which only a few remnants can be found on the ground next to the church.
Isolated in Stromboli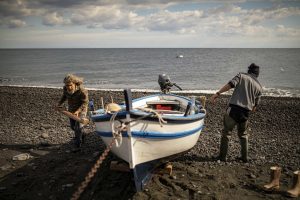 Director: Luca Noris
Origin: Italy
Runtime: 59 min
Isolated in Stromboli gives you a trip through the most evocative places in Stromboli – a volcanic island off the shore of Sicily. Traditions, places, art and habits of Stromboli are connected to respect, love and a profound sense of belonging felt by the people living on the island. An interweaving of stories that arouse emotion, enriched by the deeds and voices of the people who live the island as a daydream, surrounded by the silence of the winter and by the authentic noises created by the volcano and the sea, smoothly softened by the wind.
Isolated in Stromboli is a movie that brings you back to the past: the human being lives isolated in a place where nature reigns, art emphasizes every scenery and enhances the genius through craftsmanship. Spectacular images, seen both through aerial views and close-ups, with a high visual and audio impact, highlight and emphasize the genuine and authentic lifestyle that is typical of this place. People are the protagonists and keeper of the island and this emerges from every filmed image. Black shores, white houses, blue windows and a volcano that the inhabitants name "Iddu" (Sicilian dialect for "Him"), center of life and symbol that protects a place where time seems to have stopped from running.
Aside from OIFF 2020's Collection of Shorts Programs, the Festival also offers a Collection of Feature Length Titles of both Local & Abroad Origin.
Toprak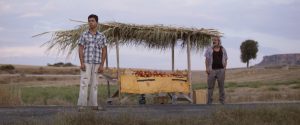 Director: Sevgi Hirschhäuser
Cast: Numan Cakir, Burak Aydin
Origin: Turkey
Runtime: 106 min
Since the death of his parents, the teenage Burak lives with his uncle Cemil and grandmother in a remote Turkish village town. ​ They try to make a living by selling pomegranates but while the religious Cemil is satisfied to live his life in poverty, Burak struggles to leave for the city and going to university. ​ When the grandmother gets sick, both have to make tough decisions that will change their lives.
Friend of the World (World Premiere)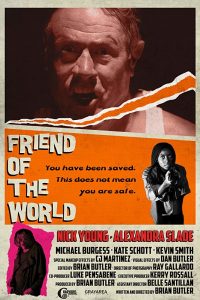 Director: Brian Butler
Cast: Nick Young, Alexandra Slade, Michael C. Burgess, Kathryn Schott, Kevin Smith, Luke Pensabene
Origin: San Diego, CA
Runtime: 50 min
After a catastrophic war, an eccentric general guides a filmmaker through a ravaged bunker.
Simple Twist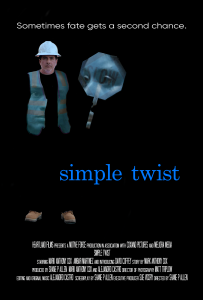 Director: Shane P. Allen
Cast: Mark Anthony Cox, David Coffey, Shane P. Allen, Ambar Martinez, Randy Davison, Jasmine Saldana Diaz, Dylan Kawalec, Charles Maze, Austin Oesterling, Mark Allyn
Origin: San Diego, CA
Runtime: 47 min
The past delivers pain and joy to a lonely man with a broken-heart.
The Lure of this Land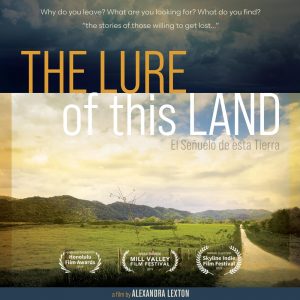 Director: Alexandra A Lexton
Origin: Belize
Runtime: 67 min
The Lure of this Land is an exploration of why people leave the places they know and love. What are they looking for? And what do they find? Filmmaker Alexandra Lexton came to Belize and found these stories: A story of a place. The story of others. And the more personal story of the foreigner in a foreign land. We meet people who have left everything they know to regenerate and rediscover themselves. Zookeeper Sharon Matola who has made an indigenous zoo out of Belize's wild and threatened creatures, filmmakers Richard and Carol Foster. And British expats Mick and Lucy Flemming. Behind every door is another person who had the drive to change their life… and to risk for a time getting lost.
Thank You for Joining Us Online at OIFF 2020