---
The 2019 Oceanside International Film Festival took place August 7th through August 11th at the Sunshine Brooks Theater in Oceanside, CA.
Please See Below for OIFF 2019's Schedule Schedule of Events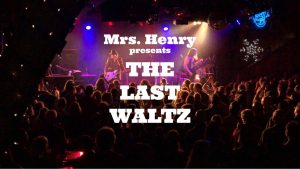 The Oceanside International Film Festival announces the World Premiere of Mrs. Henry Presents – "The Last Waltz" happening Sunday August 4th, 2019 at the Brooks Theater as part of the Oceanside International Film Festival. On November 25, 1976 a legendary rock group called The Band called it quits and documented their final performance at the Winterland Ballroom in San Francisco with the help of filmmaker Martin Scorsese. On November 26, 2017 at the Belly Up Tavern in Solana Beach right here in San Diego, Mrs. Henry documented their own incredible tribute. (Click Here for More Information)
See Below for Full OIFF 2019 Schedule
AUGUST 7, WEDNESDAY
Red Carpet Opening Ceremony(Presented by TNT at Sunshine Brooks Theatre, 217 North Coast Hwy, O'side, CA 92054 (est. in 1936!)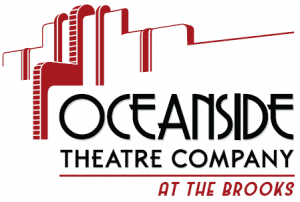 Schedule of Events
5:30 pm – Doors Open at the Brooks Theatre.
6:00 pm – Red Carpet arrival of film industries guests and reception of filmmakers at Brooks Theatre, 217 North Coast Hwy, Oceanside, CA 92054.(complimentary food and first drink included with passes, world-famous San Diego County's craft beer is served).
7:00 pm – Opening Night Program Begins with a Special Screening of TNT's Hit Series, "Animal Kingdom" episode directed by series star, Shawn Hatosy. (Q&A to Follow, More Info Below)
9:00 pm – Cocktail Hour in the Brooks Lobby.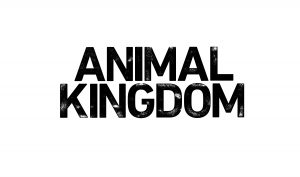 The 2019 Oceanside International Film Festival will open on Wednesday, August 7th with a red-carpet exclusive featuring the OIFF return of TNT's hit television series "Animal Kingdom" now airing its fourth season(Tuesdays at 9 p.m. ET/PT). Our opening night event will screen season four episode 11, which is the second episode star Shawn Hatosy has directed, followed by a Q&A with attending cast & crew. Last year, Hatosy was recognized with the Oceanside On Screen Award after premiering his directorial debut with season three episode 11 "Jackpot". A fan-favorite series, Animal Kingdom reached 36.5M total viewers for season three and season four currently ranks as a top 5 cable drama (P18-49). The adrenaline-fueled drama, about the ruthless Cody crime family, shoots many of the scenes right here in Oceanside, CA. Come out and see what all the buzz is about. The series stars Emmy® and Tony® winner Ellen Barkin, Shawn Hatosy, Ben Robson, Jake Weary, Finn Cole and Sohvi Rodriguez with Emily Deschanel and Spencer Treat Clark recurring.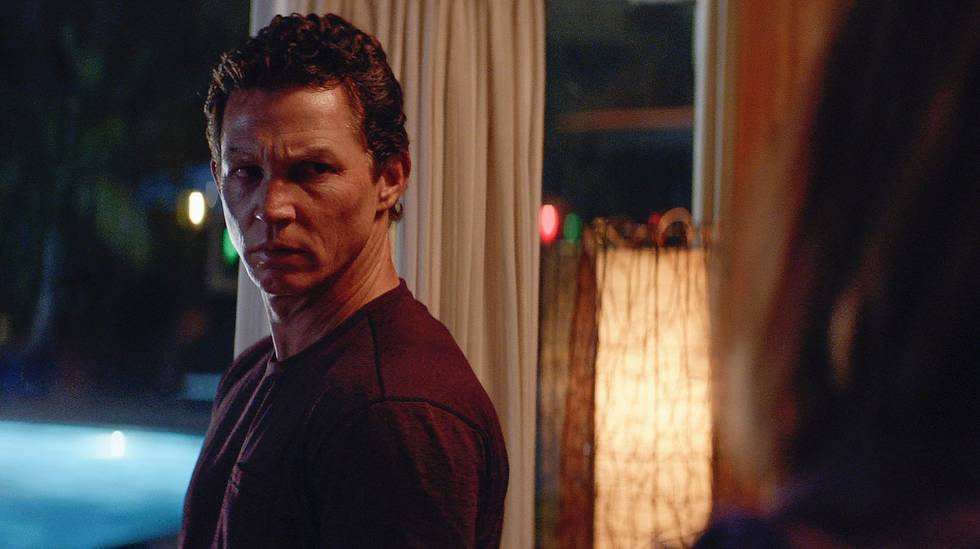 About Animal Kingdom, Season Four:
This season, Smurf (Ellen Barkin) is back on top reminding her boys who's boss no matter whom she hurts in the process. Trapped with Smurf and becoming increasingly unhinged, Pope (Shawn Hatosy) has found new and dangerous ways to deal with his anger. J (Finn Cole) continues to scheme about how to take over the family business, Craig (Ben Robson) plots one of their most difficult heists and Deran (Jake Weary) is worried about his future with Adrian (Spencer Treat Clark). As always, outsiders move in to threaten the Cody's fragile peace, including Angela (Emily Deschanel), the former best friend of J's deceased mother and a recovering junkie, who tries to snake her way back into the family's good graces. A new criminal crew is also introduced with a surprising connection to the Codys.
Episode Director Spotlight: Shawn Hatosy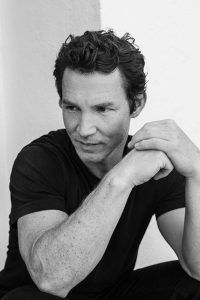 One of the most versatile actors of his generation, Shawn Hatosy continues to expand
upon his already impressive resume by starring in a succession of buzz worthy projects. In
addition to roles in The Cooler with Alec Baldwin, In & Out with Kevin Kline, Michael Mann's
Public Enemies and a darker turn in Nick Cassavetes' Alpha Dog , Hatosy starred in John
Wells' award-winning TNT drama Southland , for which he garnered a Critics' Choice Award nomination. Originally from Frederick, Maryland, Hatosy currently resides in Los Angeles.
Last year at the 2018 Oceanside International Film Festival, Shawn Hatosy premiered
Episode #11, Season Three of Animal Kingdom which was his directorial debut. The show Animal Kingdom shoots many scenes in and around Oceanside. The festival honored Shawn with bringing the spotlight to Oceanside by naming him the recipient of the "Oceanside On Screen" Award.
Series Star Spotlight: Ben Robson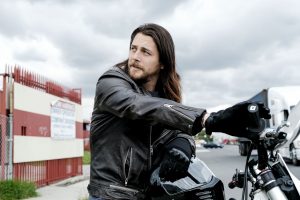 Ben Robson stars in season four of the TNT hit series Animal Kingdom opposite Ellen Barkin for John Wells, based on the critically acclaimed David Michôd film. Robson also landed the co-lead of the independent feature A Violent Separation opposite Brenton Thwaites, directed by the Goetz Brothers which is in the can. He also just wrapped the independent feature from Sobini Films Emperor, opposite Keean Johnson. Prior to that he was seen as one of the leads in the Lakeshore feature The Boy. Also on the TV side, Robson starred as the lead role of "Kalf" in the hugely successful MGM/History Channel series Vikings, opposite Travis Fimmel.
Series Writer Spotlight: Danielle Nathanson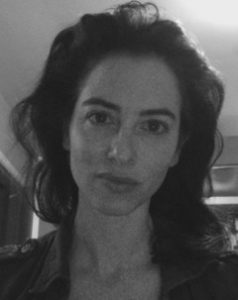 Daniele Nathanson is currently a co-executive producer on TNT's ANIMAL KINGDOM. Other television credits include: GOLIATH (Amazon), SEAL TEAM (CBS), MURDER IN THE FIRST (TNT) and NURSE JACKIE (Showtime). She holds an MFA in Playwriting from San Francisco State University and her plays have been produced at the Pacific Residence Theatre (LA), Shotgun Players (Berkeley) and others. She originally planned to be a veterinarian.
Panel Moderator Spotlight: Marco Collins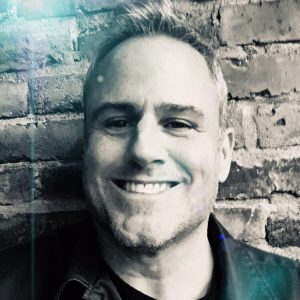 Marco Collins is a legendary radio personality. Collins is best known as the flagship DJ
and Music Director at Seattle's 107.7 'The End' during the 1990's grunge explosion which
landed him a spot in The Rock and Roll Hall of Fame. Marco was instrumental in breaking
artists such as Nirvana, Pearl Jam, Beck, Weezer, The Presidents of the United States of
America, Foo Fighters, Garbage and Harvey Danger. The bands that Marco broke went on
to international stardom, which helped establish him as one of music's most influential
tastemakers & the subject of a documentary called "The Glamour & The Squalor". Although
Marco's story is about MUSIC, it's really about the passionate, relentless and uncompromised support of artists. Marco has never been content to let talent fly under the radar.
NOTE: This event will sell out, please make your purchase soon!
AUGUST 8, THURSDAY
5:30 pm to 10:00 pm – screening of films at Sunshine Brooks Theatre, 217 N Coast Hwy, Oceanside, CA 92054.
6:00 PM – DRAMATIC SHORTS BLOCK:
OIFF Kicks-Off its Thursday Night Programming with a Line Up of Dramatic Shorts, the Majority of Which Were Produced Right Here in San Diego.
6:00 pm – Rocket Boy (San Diego Premiere)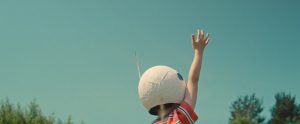 Director: Simon Sorted
Cast: Tom Mulheron
Origin: London, UK
Runtime: 5 min
As we reach the 50th anniversary of the first people travelling to the moon, 'Rocket Boy' is the account of a man who witnessed, first hand, the launch of that rocket. As he recalls the awe inspiring event, the story is told through the eyes of a young boy, who's power of imagination makes the impossible become real.
6:05 pm – In The Absence of Eden (World Premiere)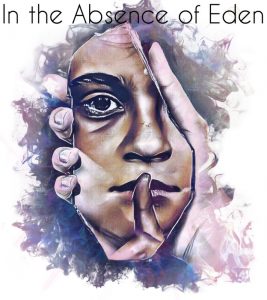 Directors: Karenssa LeGear & John Freeman
Cast: Karenssa LeGear, Elin Alexander, Beth Gallagher, Suzana Norberg
Origin: Oceanside, CA
Runtime: 6 min
"In the Absence of Eden" follows Kalissa Miller, an adult survivor of child abuse, who previously escaped the violence and secured a safe and stable home life for her kid sister, niece, and herself. Satisfied with her transition from victim to survivor and expecting little more for herself, Kalissa took in a foster child, hoping to offer a child in need the stability she never had. But for reasons outside of her understanding, she suffered a tragic loss, when her at risk foster child committed suicide. It is, now, during this uncharacteristically emotionally compromised state that Kalissa struggles to maintain the remaining family she has left.
6:11 pm – Entrenched: Prologue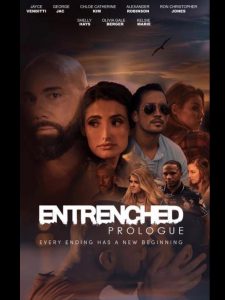 Director: Ray Gallardo
Cast: Jayce Venditti, George Jac, Ron Christopher Jones, Chloe Catherine Kim, Alexander Robinson
Origin: San Diego, CA
Runtime: 18 min
Brotherhood, family, combat and the complex interconnections that make us human. "Entrenched prologue" is the introduction of a story about two special forces operators, Dominic Turmalino and Frankie Robinson, who are about to embark on a life-changing mission while one decides to hold onto a secret.
6:30 pm – Drive-Thru (San Diego Premiere)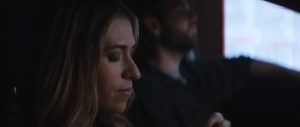 Director: Lauren Simpson
Cast: Haley Rawson, Taylor Miller
Origin: Los Angeles, CA
Runtime: 10 min
Andi is super into Ben – they're two months into a new relationship and connecting on every possible level.
One night, on their way back to his apartment to hang, Ben abruptly turns into a fast food drive-thru, where he takes the opportunity to get something important off his chest.
Caught off guard, Andi has to make a difficult decision.
6:40 pm – Break of Dawn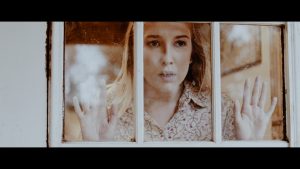 Director: Rich Varville
Cast: Janey Hurley, Joe Hurley, Lainee Rhodes, Brooke McCormick, Karl Backus,
Dustin Roller
Origin: San Diego, CA
Runtime: 15 min
A tormented young woman confronts a deranged killer with questions about her family and the sister that slipped from his grasp.
Q&A DISCUSSION, FOLLOWED BY 10 MINUTE BREAK PERIOD
7:25 PM – ROMANTIC COMEDY BLOCK:
Thursday's Second Half of Programming is Dedicated to a Variety of Romantic Comedies, Showcasing the Flawed Beauty of Our Species' Courtship. This Program is Headlined by Amrita Pradhan's San Diego Feature, WE WERE ÍSLANDS.

7:25 pm – Part 5B (San Diego, Premiere)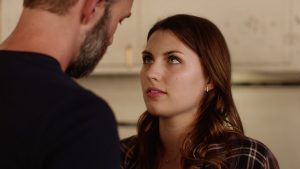 Director: Ward Crockett
Cast:  Josh Bywater, Stephen Lydic, Amy Rapp
Origin: Chicago, IL
Runtime: 10 min
A man and his soon-to-be brother-in-law get into an argument when they lose a crucial component of the machine they're building in the family garage.
7:35 pm – Is You Is… (San Diego Premiere)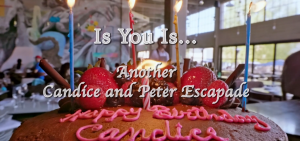 Director: Kelly Perine & Bry Sanders
Cast: Kelly Perine, Leanne Melissa Bishop, Marla Black, Steve Samson, J. Maddox,
Irene Nester, Curtis Webster, Aaron Lucas,
Amber Nicole Gilbert
Origin: Los Angeles, CA
Runtime: 13 min
Candice & Peter, a dating couple, will find out at Candice's birthday party if there's going to be a little addition to their twosome.
7:48 pm – Lucky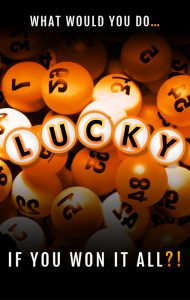 Director: Riley Wood
Cast: Drew Halliday, Mark Atkinson, Jason Weary
Origin: San Diego, CA
Runtime: 24 min
Lucky is a pilot/short film about an average Joe who wins the lottery and what he and his friends will do now that they're filthy rich. It's an everyday man's Entourage.
8:02 pm – WE WERE ÍSLANDS (Headlining Feature)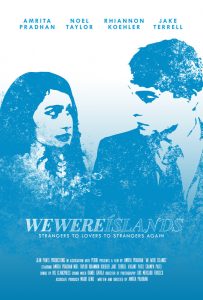 Director: Amrita Pradhan
Cast: Amrita Pradhan, Noel Taylor, Rhiannon Koehler, Jake Terrell,
Champa Patel, Vasant Patel
Origin: San Diego, CA
Runtime: 80 min
Reeta, a young stand-up comedian, feels the heat. As she edges closer to the ominous age of 3-0, she feels the ever-mounting pressure to fall in love, get married, and settle down. Her growing doubts and conservative Indian family are certainly not helping the situation. When she meets lonely funeral home employee Juliun, her happy ending finally feels imminent. A whimsical dramatic-comedy about trying to fix something that may have been broken all along.
Q&A DISCUSSION, FOLLOWED BY 10 MINUTE BREAK PERIOD
10:00 pm – CONCLUSION – Doors Open at 5:30 pm, Friday August 9th

AUGUST 9, FRIDAY
5:00 pm to 10:00 pm – at Sunshine Brooks Theatre, 217 N Coast Hwy, Oceanside, CA 92054                  
Friday Programming Begins with Bill Wisneski's Highly Important, North County Documentary, Shattered Dreams: Sex Trafficking in America. Note this Screening Starts at 5:30PM.
5:00 PM – Doors Open for Friday, Aug. 9th
5:30 PM  – Shattered Dreams: Sex Trafficking in America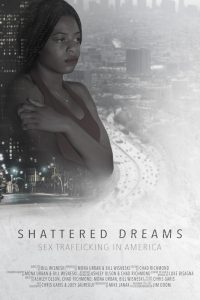 Director: Bill Wisneski
Origin: Oceanside, CA
Runtime: 55 min
Shattered Dreams is an Emmy award-winning documentary that examines the pervasive, dark underworld of sex trafficking in America. Heart wrenching personal stories from survivors of the illicit sex trade and leading experts reveal how vastly misunderstood and disregarded this important human rights issue has been.
As hundreds of thousands of victims' lives are destroyed by this multi-billion-dollar industry, the complex challenge of targeting the cause of this deeply embedded problem is exposed. Will increased awareness finally drive real solutions to save lives or will we continue to let this underground industry thrive in America?
This Screening is Followed by a 20 Minute Q&A Session with cast & Crew + 10 Minute Break.
6:55 PM – ARTS & CULTURE BLOCK:
A Returning Favorite for Oceanside's Vast Artistic Community, our 2019 Arts & Culture Block Consists of a Mixture of Nonfiction Shorts that Explore the Creative Process of Various Artforms, as well as Narrative Works Presented with an Inventive Execution. 
6:55 pm – Icons (San Diego Premiere)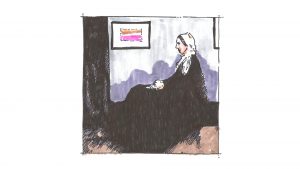 Director: Ronnie Cramer
Origin: Denver, CO
Runtime: 5 min
Five hundred years of world art in five minutes, featuring three dozen iconic works rendered with nylon-tip pen and animated old school style. Each painting is onscreen for three seconds; the transitions between them also last three seconds each. Made up of 2,500 individual drawings, with a musical soundtrack created by the artist.
7:00 pm – The Power of Stone (Mainland US Premiere)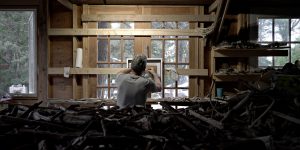 Directors: David & Barbarella Fokos
Origin: Brazil/Martha's Vineyard, MA/San Diego, CA
Runtime: 9 min
"Everything has an energy to it, and stone is no different," says Lew French. Get a glimpse into the world of this stone artist, from his work on the island of Martha's Vineyard to the home he spent 18 years building in the Atlantic Rainforest of Brazil in this short released by Salt and Sugar Productions, currently working on a feature-length documentary of the same subject.
7:09 pm – Saint (San Diego Premiere)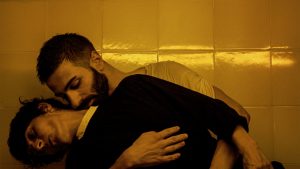 Director: Francisco Javier Gomez Pinteño
Cast: Teresa Navarrete, Koka Menteshashvili
Origin: Spain
Runtime: 4 min
She loves. She creates. She is a saint…
7:13 pm – Shaped (San Diego Premiere)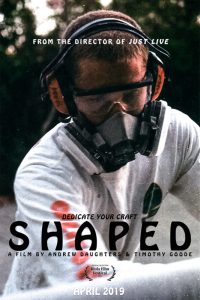 Director: Andrew Daughters & Timothy Goode
Cast: Zachariah Schroeder, Hunter Barrett
Origin: Fallbrook, CA/Buena Park, CA
Runtime: 9 min
Zach's passion for surfing motivates him to shape quality surfboards for his friends.
7:22 pm – Alone Together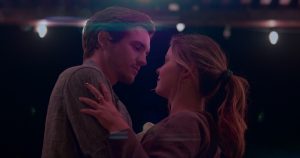 Director: Erin Martinez
Cast: Ross Graham, Isabella Mangione,
Brian Ting, Kimberly Weinberger
Origin: San Diego, CA
Runtime: 7 min
After breaking off their budding relationship, Julian and Devon struggle to return to their lonely lives apart. With a unique storytelling device, the audience is able to view two characters' stories at once.
20 MINUTE Q&A DISCUSSION, FOLLOWED BY 10 MINUTE BREAK PERIOD
7:55 PM – FRIDAY NIGHT HEADLINING FEATURE – Banana Split
7:55 pm – Banana Split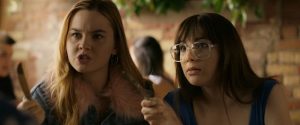 Director: Benjamin Kasulke
Cast: Hannah Marks, Liana Liberato, Dylan Sprouse, Luke Spencer Roberts, Jacob Batalon, Addison Reicke, Jessica Hecht
Written By: Hannah Marks, Joey Power
Origin: Los Angeles, CA
Runtime: 85 min
Over the course of a summer, two teenage girls develop the perfect kindred spirit friendship, with one big problem: one of them is dating the other's ex. A Q&A session will follow the screening of Banana Split.
10:00 pm – CONCLUSION – Doors Open 11:30 am Saturday, August 10th
AUGUST 10, SATURDAY
11:00 am to 10:00pm – Screening of films at Sunshine Brooks Theater, 217 N. Coast Hwy, Oceanside, CA 92054
Saturday, August 10th Commences its Full Day of Events with a Celebration of Student Filmmakers Working in Both the Nonfiction & Narrative Varieties(

Warning:

This block contains mature content not suitable for children).
11:30 AM Doors Open for Saturday, August 10th
12:00 PM – STUDENT CINEMA SHOWCASE:
12:00 pm – Vampire's Appointment (San Diego Premiere)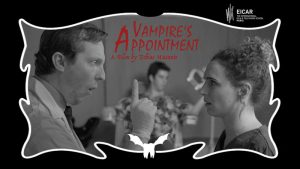 Director: Tobias Musante
Cast: Dimitri Michelsen, Pauline Prevost De Blois, Quentin Delanoe
Origin: France
Runtime: 6 min
A ridiculously determined dentist is faced with a challenge when his last minute appointment is a blood-thirsty vampire with fang-ache.
12:06 pm – KINGS BOULEVARD (San Diego Premiere)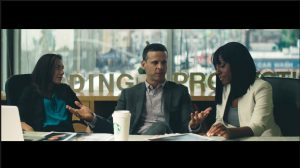 Director: Neil Payne
Cast: Micah Cohen, Tricia Brooks, Allie Rivera, Ashley Hogan
Origin: Los Angeles, CA
Runtime: 7 min
A satirical look at sexual harassment and inequality in Hollywood.
12:13 pm – Hazel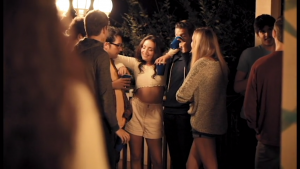 Director: Laura Nguyen
Cast: Alexandra Ximena Milla, Sam Mccubin, Josh Pearman, Emila Janda, Amanda Garrington
Origin: San Diego, CA
Runtime: 9 min
If a crime was committed and there are no witnesses, no proof, and no escape, who's going to believe you?
12:24 pm – Somewhere Between (San Diego Premiere)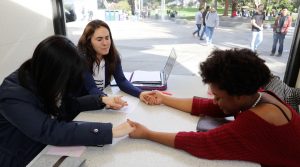 Director: Shuo Wang
Cast: Farrahn Kelso
Origin: Los Angeles, CA
Runtime: 11 min
On one side, Farrahn is a disciple. On the other side, she lives in a 'Double-life' as homosexual. Her life battles between back and forth. But, she is still on the way to find the truth of life.
12:35 pm – The Sounds of State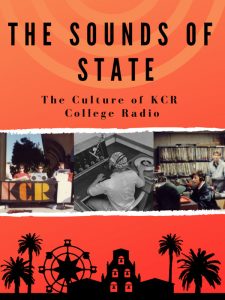 Directors: Sara Rhamy
Origin: San Diego, CA
Runtime: 11 min
A documentary about the culture of KCR College Radio, from its humble beginnings to its award-winning success and recognition.
12:46 pm – STUDENT HEADLINING FEATURE – The City's Champions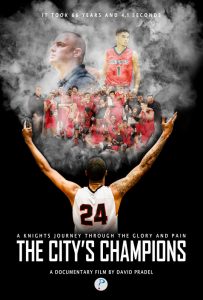 Director: David Pradel
Origin: San Diego, CA
Runtime: 83 min
The San Diego City College Knights men's basketball team embark on a new season after a disappointing playoff exit the year before. The players on the team now realize what it takes to compete in the post-season, but before they get back to the playoffs again, they must work on their team chemistry and remove their egos to come together for one common goal. The season begins with some growing pains on the court, and while it takes some time for them to find their groove, the Knights end up finding success and become a family of brothers during a historic conference win streak that gets them to the biggest game of the season. However, the team's road to glory is hit with a loss like no other off the court following their record-breaking basketball season.
20 MINUTE Q&A DISCUSSION, FOLLOWED BY 10 MINUTE BREAK PERIOD
2:40 PM – SHORT ANIMATION SHOWCASE:
Perfect for a Saturday Afternoon, this Diverse Assortment of Animated Shorts Continually Packs Surprises in Both Narrative & Technique as the Block Moves Forward!
2:40 pm – The Most Magnificent Thing  (San Diego Premiere)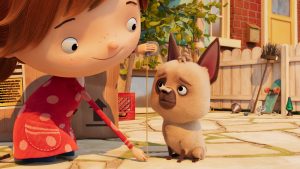 Director: Arna Selznick
Cast: Whoopi Goldberg, Alison Pill, Lilly Bartlam, Tony Daniels
Written By:  John van Bruggen, Ashley Spires
Origin: Toronto, Ontario
Runtime: 22 min
The Most Magnificent Thing is an inspirational story about a little girl with a creative spirit, determined to make great things. Joined by her best friend, her pet dog, the two happily explore the world, doing absolutely everything together. When she receives her very own tool kit, the little girl sets out to make the most magnificent thing for her best friend – but it's not as easy as she thinks! The Most Magnificent Thing is a timeless tale about learning through perseverance and hard work, the power of love, and selflessness.
3:02 pm – Stay  (San Diego Premiere)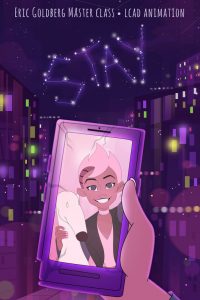 Director: Rachel Sigal
Cast: Venetia Ellis, Kyra Cole
Origin: Glendale, CA
Runtime: 4 min
Dog sitting is a normal job — unless there's an alien borzoi trying to escape to its home planet while you're on the clock! But perhaps one human misfit can convince a canine one to stay on Earth, even if she doesn't do that trick very well.
3:06 pm – Spice Frontier (San Diego Premiere)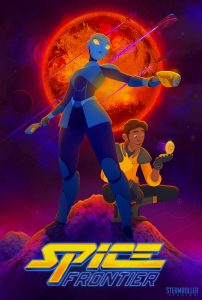 Director: Jalil Sadool & Adam Meyer
Origin: Mount Dora, FL
Runtime: 8 min
Centuries after the destruction of Earth, Kent and his cyborg companion, C-LA, embark on a flavor-driven adventure across the dangerous intergalactic trade route known as the 'Spice Road.'
3:14 pm – Equinox (California Premiere)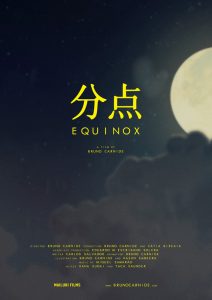 Director: Bruno Carnide
Origin: Portugal
Runtime: 3 min
Somewhere on the outskirts of Tokyo, whenever the days are as long as the nights, love loses yet another battle.
3:17 pm – The Goat (California Premiere)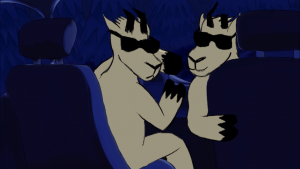 Director: Eleri Edwards
Origin: United Kingdom
Runtime: 3 min
A hiker wanders into the forest and discovers a goat. However this goat has plans for him…
3:20 pm – Seen Again (San Diego Premiere)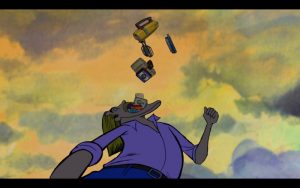 Director: Peter Murphy
Origin: Rochester, NY
Runtime: 11 min
A troubled man, trying to make sense of his life while driving through the Arizona desert, encounters difficult memories from his past that appear as a storm of personal objects falling from the sky. This experimental, hand-drawn and collage, 2-D animation explores the power of memory as manifested through objects from our past.
3:31 pm – Limo For Sale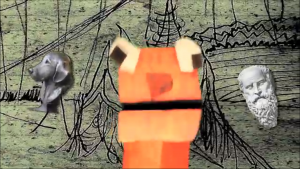 Director: Luc Hollywood
Origin: Vista, CA
Runtime: 5 min
Blake negotiates the sale of his limousine with Dennis Hopper's great grandson.
20 MINUTE Q&A DISCUSSION, FOLLOWED BY 20 MINUTE BREAK PERIOD
(Theater will be cleared after the Animation Showcase Q&A for line up of those who've pre-purchased tickets for Vans' The Tony Alva Story)
4:15 pm SPECIAL SAN DIEGO PREMIERE – THE TONY ALVA STORY (Presented by VANS):
The 2019 Oceanside Intl Film Festival is proud to present the San Diego Premiere of a film chronicling one of skate cultures most iconic figures, Tony Alva in Vans' The Tony Alva Story, Written & Directed by Rick Charnoski & Coan "Buddy" Nichols of Six Stair Productions. Skateboarding did not start out as a rebellious, anti-authority lifestyle activity. One of the key figures in the early evolution of skateboarding from a wholesome, contest based "sport" into the freewheeling art form that it is today was Tony Alva. Alva is considered by many to be the godfather of modern-day skateboarding. Alva's brand of aggression and bravado in the 70's set the stage for the way skateboarding would be forever defined.
4:15 pm – Vans' The Tony Alva Story (San Diego Premiere)
Director: Rick Charnoski & Coan "Buddy" Nichols
Cast: Tony Alva, Jeff Grosso, Steve Olson, Shepard Fairy, Gus Van Sant, Josh Brolin, Jeff Ament, Glen E Friedman, Robert Trujillo, Brad Bowman, Pete Ziehnder, Jeff Ho, Stacey Peralta.
Runtime: 54 min
Vans' The Tony Alva Story chronicles Alva's humble beginnings on the streets of Santa Monica to his rise to super-stardom as part of the legendary Z-Boys, his inevitable drug-induced implosion and his ultimate rise from the ashes to accept his rightful place as a beacon of hope and inspiration for generations of skateboarders the world over.
IMPORTANT: Separate Admission is Required to Attend this Premiere Screening. Please Find the Ticketing Link Below to Reserve Your Spots Now.
5:30 pm – Catered Intermission
Those Who've Pre-Purchased Tickets to "An Evening With Taylor Steele" are Invited to Enjoy Some Refreshments and Locally Catered Food On Us. Take a Break and Stretch your Legs Before our Final Big Event of the Night!  
6:30 pm – AN EVENING WITH TAYLOR STEELE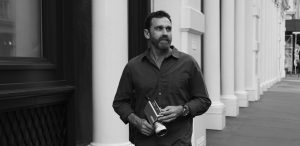 The Oceanside Intl Film Festival is very proud to present "An Evening with Taylor Steele"; Saturday Aug. 10th 6:30pm; a night in which renowned filmmaker Taylor Steele will take the fans of his award-winning filmography through stories and scenes covering the several decades of his filmmaking career, spanning from right here in North County to around the world.
Taylor Steele is an award-winning filmmaker, creative visionary and entrepreneur who has played a vital role in bringing the thrill and serenity of surf culture to the masses. At the young age of seventeen, he released the surf film 'Momentum', and over the following two decades he went on to direct and produce over forty best-selling titles starring the world's best surfers and musicians. Steele's films have starred world famous surfers such as Kelly Slater, Rob Machado, Craig Anderson, Ozzie Wright, Jordy Smith and Taylor Knox. Join us for this unique one of a kind event which anchors the festival's Saturday, August 10th programming. There may even be some special guests!
IMPORTANT: Separate Admission is Required to Attend this Special 3+ Hour Event. Please Find the Ticketing Link Below to Reserve Your Spots Now.
10:00 PM – CONCLUSION – Doors Open Sunday, August 11th at 10:30 AM.
AUGUST 11, SUNDAY
11:00 am to 6:00 pm – screening of films at Sunshine Brooks Theatre, 217 N Coast Hwy, Oceanside, CA 92054
10:30 AM – Doors Open at Brooks Theatre.
11:00 AM – WORLD TRAVELS DOCUMENTARY BLOCK:
This Lineup of Nonfiction Cinema Will Tour You Around Globe, Showcasing Stories of Adventure, Passion & Achieving the Impossible. This Block's Conclusion Will Mark the End of OIFF's Regular Film Screenings and Lead Into Our Industry Panel(Further Details TBD).
11:00 am – EXPOSED: The Photography of Jack Grisham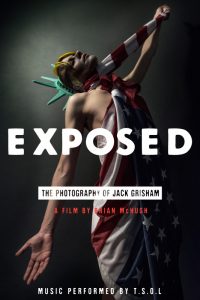 Director: Brian McHugh
Cast: Jack Grisham, T.S.O.L.
Origin: San Diego, CA
Runtime: 14 min
At 57 years old, iconic T.S.O.L frontman Jack Grisham is the same person he was at 8 years old, "I pretended to be in a band, I shot photos with my instamatic camera and wrote stories." Through music, writing and photography, Jack's unapologetic ideas have influenced a generation of musicians, writers and photographers. In the 1980's, the punk rock phenomenon was taking hold of Southern California, and T.S.O.L was at the forefront of the movement, challenging authority, social norms and inciting youth to find free thought and rebellion. Nowadays, Jack uses photography to document the world with an outsider's vision, connecting to his subjects in a personal and intimate way, and sharing a snap shot into his subject's soul.
11:15 am – Stuck On A Rock (San Diego Premiere)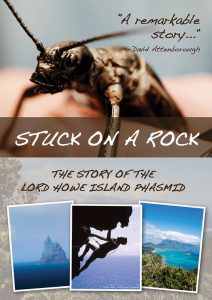 Director: Asher Flatt
Origin: Melbourne, Australia
Runtime: 32 min
Ball's Pyramid is the tallest sea stack in the world, a monolithic rock jutting from the Pacific Ocean 20km from Lord Howe Island and the sight of one of the most remarkable rediscoveries of the 21st century. Stuck on a Rock is a story of adventure and persistence in the face of adversity. It is also the slightly odd tale of an extinct stick insect and the people trying to bring it back from the dead.
11:48 am – Self Discovery for Social Survival (San Diego Premiere)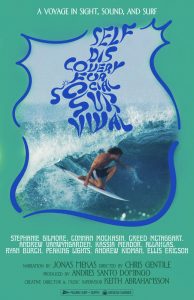 Director: Chris Gentile
Cast: Jonas Mekas, Stephanie Gilmore, Ryan Burch, Devon Howard, Creed McTaggert, Jamie Brisick
Origin: Brooklyn, NY/Santa Barbara, CA/Iceland/Maldives/Mexico
Runtime: 50 min
Self Discovery for Social Survival is a collaborative film from record label Mexican Summer and surf and outdoor brand Pilgrim Surf + Supply. Filmed in Mexico, the Maldives, and Iceland in three separate vignettes, musicians (Allah-Las, Connan Mockasin, Andrew VanWyngarden of MGMT, and Peaking Lights) and pro-surfers (Stephanie Gilmore, Creed McTaggart, Ryan Burch + more) embark on sound and surf journeys that conjures a surreal and serene symbiosis of music, the environment, and local culture. The film is poetically narrated by the legendary avant-garde filmmaker Jonas Mekas, one of his last recorded testaments.
20 MINUTE Q&A DISCUSSION, FOLLOWED BY 20 MINUTE BREAK PERIOD
1:20 pm – OIFF 2019 Panel Discussion: One On One w/Joanna Cassidy
OIFF presents this reflective on stage discussion featuring a legendary actress Joanna Cassidy as we honor her past and present contributions to the industry through stories of some of their most treasured on screen moments. (This Event is Included with a Sunday Pass or Festival Pass.)

The very lovely and vivacious Joanna Cassidy is known for her roles as the replicant Zhora Salome in Ridley Scott's film Blade Runner (1982) and Dolores in Who Framed Roger Rabbit (1988). She has won a Golden Globe Award for her resourceful portrayal of Jo Jo White, in the sitcom Buffalo Bill (1983). Cassidy was nominated for three Emmy Awards and also was nominated for a Saturn Award and Screen Actors Guild Awards.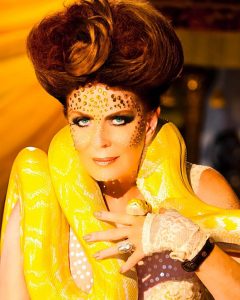 Joanna is well known for her Emmy-nominated recurring role as a quirky, capricious mother/psychiatrist in the cult cable series Six Feet Under (2001). Cassidy has recently been on the series TV series "Odd Mom Out" on Bravo for several seasons and "The Cool Kids". Cassidy also has starred in films such as Under Fire, The Fourth Protocol, The Package, Where the Heart Is, Don't Tell Mom the Babysitter's Dead, Vampire in Brooklyn and Ghosts of Mars.
Joanna's ability to stretch across roles and genres for years is evident in her many Television roles that included popular shows, both comedic and dramatic, such as L.A. Law, Diagnosis Murder, The District, Boston Legal, Dallas, Trapper John, M.D., Taxi, Starsky and Hutch, Charlie's Angels, Lou Grant (1977) and a recurring role on Falcon Crest (1981). Joanna will also star in the recurring role of Eloise in the critically acclaimed mini-series "Too Old to Die Young" on Amazon Prime Video created by Nicolas Winding Refn and Ed Brubaker which premiered in June 2019.
The Oceanside International Film Festival is very honored to present "One On One w/ Joanna Cassidy" hosted by Carly Starr Brullo-Niles (Artistic Director OIFF/ Executive Director KOCT).
2:50 pm – Cocktail Hour
Take this opportunity to enjoy one last networking session at The Brooks Theatre as we prepare for our awards show finale. 
3:35 pm – OIFF 2019 Awards Ceremony
Note: Our 9th annual awards ceremony will present 20 awards that have been determined by the OIFF 2019 Grand Jury. The awards show will take place at the Sunshine Brooks Theatre, Admission is granted with a festival pass or a single day admission pass for Sunday. 2019 will be presenting 13 new awards this year in a plethora of categories. In addition, OIFF and the Oceanside Cultural Arts Foundation will be presenting 3 scholarship awards to emerging filmmakers. OIFF thanks Jim & Charlene Hamilton for their donation of the Inspiring Student Scholarship Award. The full collection of award categories is listed below: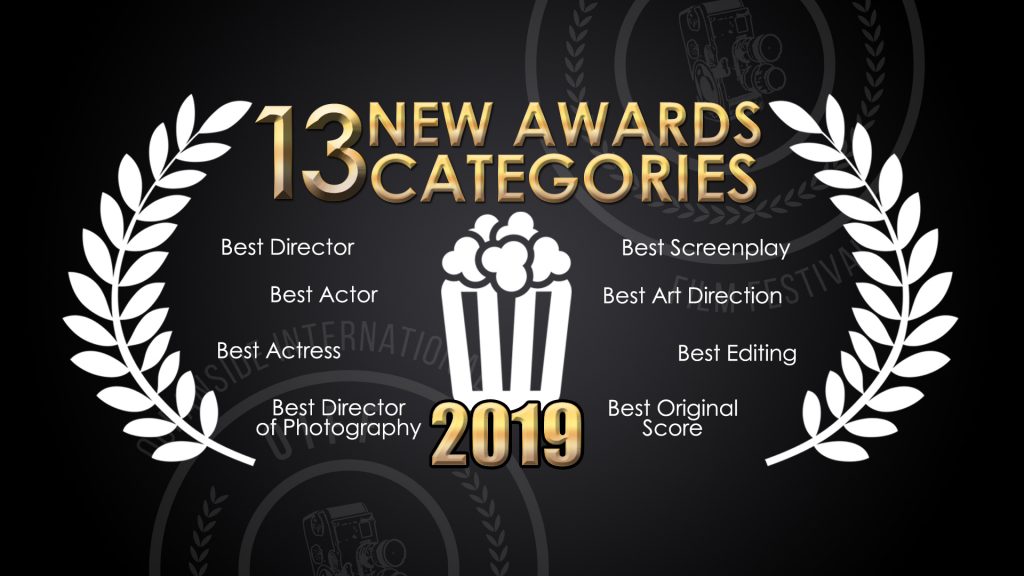 – Best Narrative Feature
– Best Narrative Short
– Best Feature Documentary
– Best Short Documentary
– Best Best Animation (Any Length)
– Best Student Film (Any Length)
– Best Best Picture (Any Length)
– Best Direction in a Feature
– Best Direction in a Short
– Best Actor in a Lead Role
– Best Actress in a Lead Role
– Best Actor in a Supporting Role
– Best Actress in a Supporting Role
– Best Cinematography in a Feature
– Best Cinematography in a Short
– Best Screenplay (Any Length)
– Best Editing in a Feature
– Best Editing in a Short
– Best Original Score
– Best Art Direction (Any Length)
– Emerging Filmmaker Fund $1000
– Emerging Student Filmmaker Scholarship $500
– Inspiring Student Scholarship Award, Presented by OCAF & North County Film Club $625
6:00 pm – CONCLUSION OF OIFF 2019
See You at the Movies!